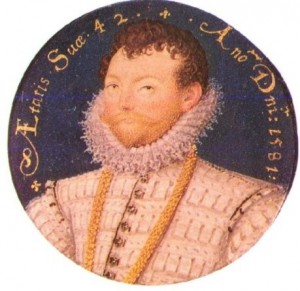 On this day in Tudor history, 4th April 1581, Francis Drake, the famous Elizabethan explorer, sea captain and pirate, was awarded a knighthood by Elizabeth I. He was dubbed by Monsieur de Marchaumont on board the Golden Hind at Deptford.
The knighthood was a reward for Drake's 1577-80 expedition, which saw him plundering Spanish ports, capturing Spanish ships, claiming Point Loma for England as Nova Albion, circumnavigating the globe, and more importantly, bringing back a rich cargo of treasure and spices for his queen.
Drake presented Elizabeth with a jewel to commemorate his successful circumnavigation. It was from Mexico and was made of enamelled gold decorated with an African diamond and a ship with an ebony hull. In return, Elizabeth presented Drake with a jewel and a portrait of herself.
Here are some videos on Francis Drake so you can find out more about his life and expeditions:
Also on this day in Tudor history...