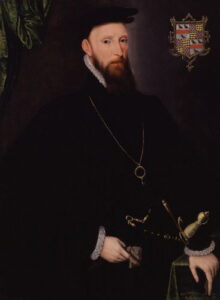 On this day in history, 11th April 1609, in the reign of King James I, conspirator, patron and collector, John Lumley, 1st Baron Lumley, died at his London home.
Lumley made a garden in honour of Elizabeth I, as an apology to her, and is known to have possessed a full-length portrait of Anne Boleyn.
Here are a few more facts about this Tudor baron…
He was born in around 1533, in the reign of King Henry VIII, and was the only son of George Lumley, from the East Riding of Yorkshire, and his wife, Jane Knightley.
His father was executed in 1537 for his involvement in the Pilgrimage of Grace rebellion.
In 1545, Lumley's grandfather, John Lumley, 5th Baron Lumley, died and Lumley was able to inherit the Lumley estates in Durham.
In 1547, Lumley was restored in blood and made Baron Lumley.
In around 1550, Lumley married Jane, Fitzalan, daughter of Henry Fitzalan, 12th Earl of Arundel. They had three children together, but sadly none of them survived childhood.
In September 1553, the Catholic Lumley was made a Knight of the Bath in the celebrations for Mary I's coronation, which he attended.
From 1559 until his death, Lumley was keeper of the Great Park of Nonsuch and he and his wife lived in Nonsuch Palace, which, at the time, belonged to his father-in-law, Arundel. In the same year, he became high steward of Oxford University and Arundel became chancellor.
Lumley was very close to Arundel and both were involved in the 1571 Ridolfi Plot against Elizabeth I. Lumley was imprisoned in the Tower of London for a time, and then kept in confinement at other properties. He kept his head, though, and was finally released in April 1573. His wife died in 1576/7.
Lumley created a special garden, an allegorical garden, the grove of Diana, at Nonsuch as an apology to the queen for his involvement in the plot against her.
In 1580, following the death of Arundel, Lumley inherited Nonsuch Palace, but also his father-in-law's debts. To settle money owed to the queen, Lumley gave her Nonsuch but was able to remain living there as its keeper.
In 1582, Lumley married Frances, daughter of John Darcy, 2nd Baron Darcy. The marriage was childless.
In 1586, Lumley proved his loyalty to the queen by serving as a commissioner at the trial of Mary, Queen of Scots
Lumley spent his later years at the family seat, Lumley Castle in County Durham.
He died on 11th April 1609 in London. Lumley was buried at night, probably so that he could be buried with a Catholic service, in the Lumley Chapel of St Dunstan's in Cheam.
Lumley's library was said to be one of the largest in England, and he collected manuscripts, books, paintings, sculptures, marble busts and furniture. In his collection, according to historian Eric Ives, was a full-length portrait of Anne Boleyn. It was later cut down, after being damaged in a fire, and seems to have last been mentioned in the 18th It is now lost, probably in a private collection somewhere.
Also on this day in Tudor history...
Image: John Lumley, Baron Lumley, attributed to Steven van der Meulen.