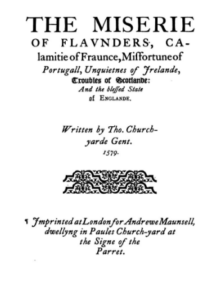 On this day in Tudor history, 1st April 1604, author and soldier Thomas Churchyard died in Westminster, London.
Churchyard started writing in the reign of Edward VI and some of his poems were published in "Tottel's Miscellany".
Churchyard was also an active soldier, serving with the Duke of Somerset in Scotland and fighting as a mercenary for Protestants in Europe.
Let me share with you a few facts about this man…
Thomas Churchyard was born in around 1523 in Shrewsbury and his early life and family background are obscure.
He joined the household of Henry Howard, Earl of Surrey, in 1537, serving as a page until 1541.
It is thought that he served with Surrey as a soldier in Flanders in 1543, and then, in 1548, during the Duke of Somerset's Scottish campaign he was captured by the French and Scots and imprisoned for 6 months. From 1550 to 1551, he served under Anthony St Leger, Lord Deputy of Ireland, in Ireland, and in 1553, he was serving under the Emperor on the Rhine when he was captured. Fortunately, he escaped and was able to return to England in 1555.
Churchyard was imprisoned again in 1558 when the English surrendered to the French at Guînes, but again managed to escape. He then served under Lord Grey in Scotland, but returned to London in 1560 after the Siege of Edinburgh.
In 1567, Churchyard was hired by William of Orange to lead a Protestant rebellion in Antwerp, but ended up having to flee to Paris, according to Churchyard himself, disguised as a priest. The following year, he was back in the Low Countries serving as a soldier under William.
In 1570, he served in Guernsey under the governor, Sir Thomas Leighton, before heading back to the Low Countries and then Ireland, where he served under Henry Sidney.
In 1580, Churchyard got into trouble when charges were laid against him by a woman who claimed that he had killed her husband. It is not known whether he acted in self-defence or whether it was an accident. He fled to Scotland, posing as a refugee and as an employee of the French ambassador to England. A letter to his patron, Sir Christopher Hatton, shows that he was in the Marshalsea prison in July 1581. However, he was back in Antwerp in 1582 and he may well have served under Robert Dudley, Earl of Leicester, in 1585.
In early 1577, in the reign of Queen Elizabeth I, he acted as a messenger in Brussels, carrying letters between Sir Francis Walsingham, Elizabeth I's secretary, and the English ambassador, Dr Thomas Wilson. He also carried out some diplomatic missions in Flanders.
He got into trouble in 1600 for not attending church, and it is thought that this was down to illness as Churchyard was a staunch Protestant. He managed to avoid prison this time.
According to his literary works, Churchyard's wife cheated on him and had three illegitimate children, and even tried to poison him.
Churchyard's literary career began in 1552, in the reign of Edward VI. His works include " Davy Dycars Dreame", "A Myrrour for Man where in he shall See the Myserable State of thys Worlde","The Firste Parte of Churchyardes Chippes", "A Generall Rehearsall of Warres", "Churchyardes Chance", "Churchyardes Charitie" and "Churchyardes Charge". He wrote poems, court satires, broadside ballads and verse pamphlets, as well as works on war and voyages, an account of an earthquake in London, and a work on Wales and its history and landscape. He also wrote epitaphs for Philip Sidney, Christopher Hatton, and Elizabeth I.
Thomas Churchyard died on 1st April 1604 in Westminster and was buried in St Margaret's Church, Westminster, on 4th
Also on this day in Tudor history...