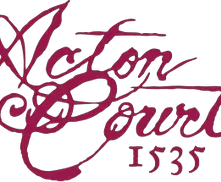 We LOVE Acton Court as it is such an amazing example of Tudor history. However, the doors are not open all the time so it is a very special place to visit when they do. From 22 August to 11 September 2021 you can get admission which gives access to the grounds, the three rooms for the King, the downstairs area and any activities that may be taking place on the day. Audio guides plus visual and written information will be provided.
One great option is the self-guided tour where you can learn the history of Acton Court at your own pace with an audio guide, free with your admission. There will be a selection of tours available, each with a different perspective.
The House and Grounds will be open from Sunday 22 August to Saturday 11 September 2021. Closed Mondays & Tuesdays with the exception of Bank Holiday Monday 30 August. There will be two time slots, 11:00 -13:00 and 13:30 -15:30.
Admission prices: Adult £10.00 plus Eventbrite booking fee.
Children, 11 and under, by arrangement, email [email protected].
Numbers are limited so please book. You can book on this link:
BOOK YOUR TRIP NOW
Send us pictures if you get the chance to go!