On this day in Tudor history, 7th May 1560, English troops suffered a heavy defeat at the siege of Leith.
What was this siege all about?
And who described their dead bodies as a fair tapestry?
Find out in this #TudorHistoryShorts
Here is a contemporary map of the siege, dated 7th May 1560, which is in the collection of Petworth House in Sussex: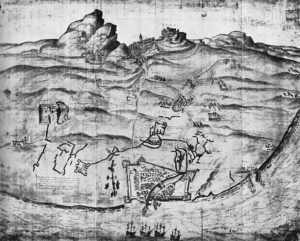 On 7th May 1567, eight days before James Hepburn, Earl of Bothwell, married Mary, Queen of Scots, the Catholic court granted him a divorce from his wife, Lady Jean Gordon.
Who was Jean Gordon? Why did Bothwell divorce her? And what happened to Jean afterwards?
Find out more about Bothwell and Jean's marriage, and about Jean's life...
On this day in Tudor history, 7th May 1535, after a year of imprisonment in awful conditions at the Tower of London, John Fisher, former Bishop of Rochester, was visited at the Tower of London and tricked into saying something that would lead to his brutal end.
I explain what led to Fisher's imprisonment, what happened on this day in 1535 and what happened next...
On this day in 1536, 7th May, one of Queen Anne Boleyn's chaplain was accosted and searched on his arrival back in England from the Continent.
Why was he searched? What had been his business abroad? What was found in his possession? And what happened to him?
I explain...