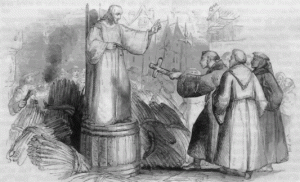 On this day in history, 30th April 1532, in the reign of King Henry VIII, lawyer James Bainham was burned at Smithfield.
Bainham was married to the widow of reformer Simon Fish, a man who had also been charged with heresy, and the author of the religious pamphlet The Supplication of Beggars, which Anne Boleyn was said to have shared with Henry VIII.
Bainham had been condemned to death for heresy after denying the doctrines of transubstantiation and purgatory, and rejecting the recantation he made after being tortured and imprisoned in the Tower of London between December 1531 and his release in February 1532. His imprisonment and torture were ordered by Sir Thomas More.
Martyrologist John Foxe wrote of Bainham's burning:
"At whose burning, here is notoriously to be observed, that as he was at the stake, in the midst of the flaming fire, which fire had half consumed his arms and legs, he spake these words: "O ye papists behold, ye look for miracles, and here now you may see a miracle; for in this fire I feel no more pain, than if I were in a bed of down: but it is to me as a bed of roses." These words spake he in the midst of the flaming fire, when his legs and arms, as I said, were half consumed."
You can read John Foxe's account of James Bainham's life, beliefs, interrogation and torture, and execution at http://www.exclassics.com/foxe/foxe177.htm.
Notes and Sources
Litzenberger, Caroline. "Bainham, James (d. 1532)." Caroline Litzenberger In Oxford Dictionary of National Biography, edited by H. C. G. Matthew and Brian Harrison. Oxford: OUP, 2004.