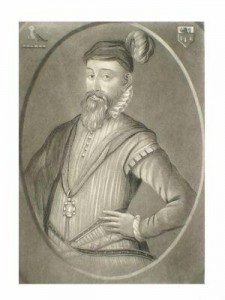 On this day in history, 3rd November 1592, Sir John Perrot, Privy Councillor and former Lord Deputy of Ireland, died at the Tower of London from illness. He was buried in the Chapel of St Peter ad Vincula at the Tower. He'd been tried for treason in April 1592 and later sentenced to death, but he died of natural causes.
Philippa Jones (The Other Tudors) writes of how it was widely believed that he was actually the illegitimate son of Henry VIII by Mary Berkeley, who served Catherine of Aragon, Henry VIII's first wife, but others dispute this claim, saying that there is no evidence to support this.
I did a Claire Chats video "Was Sir John Perrot Henry VIII's son?" in which I look at Perrot's life and the evidence regarding his parentage. Click here to view the video now.