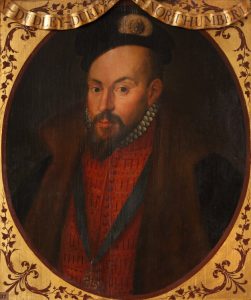 July 1549. The almost twelve-year-old Edward VI had been King of England for two-and-a-half years. Landlords had begun enclosing the common lands, which prevented peasants from being able to have a place for their animals to graze. Several landlords had taken to raising sheep, as the English wool trade was growing quite prosperous. This, in concert with a host of other problems such as inflation and unemployment, led to unrest for the lower classes.
After Edward Seymour, Lord Protector, had issued a proclamation on behalf of Edward VI that made enclosures illegal, several peasants tore down a fence that was raised in the town of Attleborough. On 6 July, the town of Wymondham was observing the illegal feast day for Thomas Beckett. Henry VIII had outlawed any such celebrations or commemorations of Thomas Becket back in 1538. After the festivities, some revellers got together and decided to dismantle some of the enclosures. This was the beginning of the Norfolk uprising and posed a significant threat to the Lord Protector's government.
First, the peasants targeted a lawyer named Sir John Flowerdew, but Flowerdew was able to pay off the peasants. Sir John Flowerdew was likely a target not only because he was a landowner, but also because he played a role in the dissolution of Wymondham Abbey. Thomas Beckett was a patron of Wymondham Abbey. Flowerdew then convinced the peasants to attack Robert Kett's property, instead.
Robert Kett was a wealthy landowner, who earned his money as a tanner in Wymondham, with his family being established in the Norfolk area during the twelfth century. Flowerdew disliked Kett because Kett had played a prominent role in preventing the destruction of the local parish church. Rather than fight off the peasants, Kett learned what their concerns were and decided to join them, saying:
"I am ready to do whatever not only to repress, but to subdue the power of great men, and I hope to bring it to pass ere long as ye repent your painful labour, so shall these the great ones of their pride. Moreover, I promise that the hurt done unto the public weal and the common pasture by the importunate lords thereof shall be righted whatever lands I have enclosed shall again me made common unto ye and all men, my own hand shall first perform it. Never shall I be wanting where your good is concerned. You shall have me if you will, not only as a companion, but as a captain, and in the doing of so great a work before us, not only as a fellow, but for a general standard bearer and chief. Not only will I be present at your councils but, if you will have it so, henceforth I will preside at them."
The group took down Kett's fences and others in the area, then started for Mousehold Heath outside of Norwich.
By the time Kett reached Mousehold Heath, he may have commanded as many as 16,000 men. He had managed to discipline the men, and create some sort of order and justice. This large band certainly posed a threat to the surrounding area. The rebels were successful in blockading the City of Norwich and would remain there for over six weeks. Kett took over St. Michael's Chapel, which thereafter earned it the nickname of "Kett's Castle." The building is now in ruins. Kett and his men maintained the camp at Mousehold and continued to take buildings for their use, including a house that had been built by Henry Howard, Earl of Surrey. This was indeed a significant rebellion, and no small thing.
A great council was established, and its members met under a tree that came to be known as the Oak of Reformation. Sadly, this oak tree was felled or otherwise destroyed between roughly the 1940s and the 1960s. The Council, made of members from the Hundreds of Norfolk and at least one representative from Suffolk, drew up a list of 29 grievances to present to Edward Seymour, Duke of Somerset and Lord Protector. The grievances were aimed at protecting the poor and insulating them from poverty, plus removing the national government from local affairs. During this time, a relative truce had been established, even though the council periodically issued warrants to arrest people and to seize provisions for the camp.
Around 21 July, the King sent a messenger to the camp and ended the truce. That night, the rebels set up their artillery and attacked the City of Norwich. When day broke, Kett chose to end the bombardment for fear of losing his artillery from return fire. The artillery was moved further up Mousehold Heath and out of the range of fire for the defenders' artillery, and they again opened fired on Norwich. The rebels also charged down the slopes of Mousehold Heath, swam across the River Wensum, and entered the city, of which they were able to take control.
Thereafter, amnesty was offered by the King, but Kett and the rebels refused. By early August, the King had sent William Parr, 1st Marquess of Northhampton, with around 1,500 men to put down the uprising. They failed. Another 14,000 or so troops were sent to quash the rebels. These additional troops were led by John Dudley, the Earl of Warwick, and included German and Spanish mercenaries. Warwick was able to lure the rebels out of the city and into the countryside area known as Dussindale. The exact spot of the battle is debated.
Being out in the open, the rebels were vulnerable to the weaponry and tactics of Warwick and his trained men. Kett's army was utterly destroyed, with 3,000 to 4,000 or more rebels killed. Only about 350 of Warwick's men died during the battle. Warwick offered a general pardon to those rebels who were left. Kett managed to escape, though he was later captured, along with his brother. They were both tortured, then imprisoned in the Tower of London. After their trials and convictions back in Norwich, the Kett brothers were hanged in chains, with Robert hanging from the battlements Norwich Castle and his brother from Wymondham Abbey. This was a particularly gruesome, slow death, and both these men had been previously tortured. It took them several days to die, after which their rotting corpses were left as a reminder. And thus ended the Norfolk uprising of 1547, otherwise known as Kett's Rebellion.
You can also read Claire's article on Kett's Rebellion - click here.
Heather R. Darsie lives in the United States with her family and three parrots. She works in the legal field, with a focus on children. She obtained a Bachelor of Arts degree in German Languages and Literature, then a Juris Doctorate in American jurisprudence, and studied abroad in Costa Rica and France. Heather has always loved history. She first became acquainted with Elizabeth I when she was in middle school and chose to write a book report about her. Since then, she has always held an interest in the Renaissance and its numerous enigmatic citizens, with particular focus on the history of England and Italy. She is currently working on a book on the heraldry of Tudor women and is also researching Anne of Cleves.
Sources & Suggested Reading