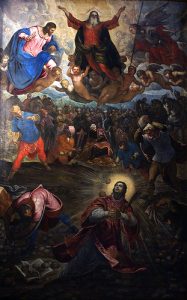 The day after Christmas, which is today known as Boxing Day, was the feast day of St Stephen, the first Christian martyr or protomartyr. Stephen was stoned to death after being accused of blasphemy and his death was witnessed by Paul the Apostle, then known as Saul of Tarsus:
Acts 7:54 - 8:2:
"54 When they heard these things, they were cut to the heart, and they gnashed on him with their teeth.
55 But he, being full of the Holy Ghost, looked up stedfastly into heaven, and saw the glory of God, and Jesus standing on the right hand of God,
56 And said, Behold, I see the heavens opened, and the Son of man standing on the right hand of God.
57 Then they cried out with a loud voice, and stopped their ears, and ran upon him with one accord,
58 And cast him out of the city, and stoned him: and the witnesses laid down their clothes at a young man's feet, whose name was Saul.
59 And they stoned Stephen, calling upon God, and saying, Lord Jesus, receive my spirit.
60 And he kneeled down, and cried with a loud voice, Lord, lay not this sin to their charge. And when he had said this, he fell asleep.
8 And Saul was consenting unto his death. And at that time there was a great persecution against the church which was at Jerusalem; and they were all scattered abroad throughout the regions of Judaea and Samaria, except the apostles.
2 And devout men carried Stephen to his burial, and made great lamentation over him." (King James Version)
Thomas Tusser, the 16th-century poet and farmer, wrote of how St Stephen's Day was the traditional day for bleeding horses and cattle:
Ere Christmas be passed let horse be let blood,
for many a purpose it doth them much good.
The day of St. Stephen old fathers did use:
if that do mislike thee some other day choose.
And it was also a day associated with hunting. On one St Stephen's Day, at the Inner Temple, a cat and fox were let loose and hunted with a pack of hounds who finally tore the two creatures to bits. Here is the account from John Nichols's The Progresses and Public Processions of Queen Elizabeth (Volume V, p. 161):
"This Ceremony also performed, a Huntsman cometh into the Hall, with a Fox and a Purse-net;26 with a Cat, both bound at the end of a staff; and with them nine or ten Couple of Hounds, with the blowing of Hunting-Hornes. And the Fox and Cat are by the Hounds set upon, and killed beneath the Fire."
Trivia: "Boxing Day" has its origins in the 17th century when apprentices and servants collected their annual tips (gratuities) in boxes or earthenware pots.
Picture: Stoning of Saint Stephen, altarpiece of San Giorgio Maggiore, Venice, by Jacopo & Domenico Tintoretto, Wikipedia.