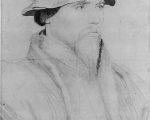 Sir John Gage was born on 28th October 1479 and was the only son of William Gage of Burstow and his wife, Agnes, daughter of Bartholomew Bolney of Bolney in Sussex. Gage was baptised in Burstow, where he was born, but the family later moved to Firle, near Lewes.
In 1499, Gage became a ward of Robert Tate, alderman of London, and in 1502 Gage married Philippa, daughter of Sir Richard Guildford of Cranbrook who was comptroller of the royal household. This marriage match was good for Gage in that it helped him to join the royal household, which he did by becoming an esquire of the body to King Henry VII. He continued in this role after the accession of 17-year-old Henry VIII in 1509.
Gage served as a Justice of the Peace for the counties of Sussex (1514) and Surrey (1528) and by 1522 he had been appointed as deputy to Sir Nicholas Vaux, who was serving as captain of Guînes. This was due to the patronage of Sir William Sandys who was serving as treasurer of Calais. In August 1522, Gage was granted survivorship of the office of comptroller of Calais, because the comptroller, Sir Robert Wotton was ill, and he became comptroller in 1524 on Wotton's death. He served in the campaigns in France in the 1510s and 1520s and was rewarded with a knighthood in 1525.
[Read More...]