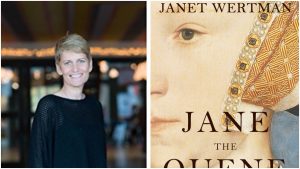 The time and date have now been confirmed for the live-chat session with Janet Wertman on the Tudor Society chatroom. It will take place at 11pm UK time on 18th November and here are the times in the different time zones:
11pm on 18 November in the UK
12 midnight on 18/19 November in Madrid, Spain
6pm on 18 November in New York, USA
3pm on 18 November in Los Angeles, USA
10am on 19 November in Sydney, Australia
You can catch up with Janet's talk on researching Jane Seymour for her book Jane the Quene at www.tudorsociety.com/expert-talk-janet-wertman-researching-jane-quene/. The chat will take place on the chatroom at https://www.tudorsociety.com/chatroom/.