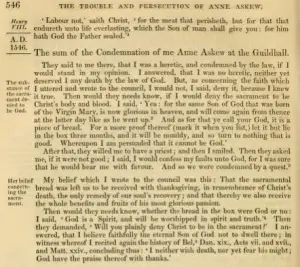 If you remember, back in May, I wrote about Henry VIII's Privy Council sending letters on 24th May 1546 to reformer Anne Askew and her estranged husband, Thomas Kyme, ordering them to appear in front of the council within fourteen days. Well, on 18th June 1546*, Anne, Nicholas Shaxton (former Bishop of Salisbury), Nicholas White and John Hadlam were all found guilty of heresy at London's Guildhall.
Charles Wriothesley records that they "were this daie first indited of heresie and after arraygned on the same, and their confessed their heresies against the sacrament of the alter without any triall of a jurie, and so had judgment to be brent[burnt]." Although all four were condemned to death, Shaxton and White recanted their heretical beliefs and were spared. Shaxton visited Anne in prison and tried to persuade her to recant, but she would not and she said to him "that it had been good for him never to have been born".
Poor Anne Askew has gone down in history not only for being burnt at the stake as a heretic, but also for the fact that she was illegally racked at the Tower of London by Sir Richard Rich and Sir Thomas Wriothesley in the hope that she would give them the names of reformers at court, particularly ladies linked to Queen Catherine Parr. So badly was she racked that she had to be carried to the stake on 16th July 1546, the date of her execution, and the stake had to have a seat to support her body. John Hadlam was burnt on the same day.
You can read all about Anne Askew's examinations, her condemnation at Guildhall, and her confessions of her faith, all in her own words, in John Foxe's Acts and Monuments, p. 537-550 at https://archive.org/stream/actsmonumentsofj05foxe#page/536/mode/2up.
You can also click here to read Roland Hui's account of her life.
*Charles Wriothesley records that the trial took place on the "eightenth daie of June, 1546", but 28th June 1546 is also put forward as a date for her trial.