Cardinal Pole died on the very same day as his beloved queen, Mary I. Raphael Holinshed's Chronicles record his death:
Leauing queene Marie being dead & gone, you are to vnderstand and note, that the same euening, or (as some haue written) the next daie after the said queens death,The death of [...]rdinall Poole. Cardinall Poole the bishop of Romes legat departed out of this life, hauing beene not long afore made archbishop of Canturburie: he died at his house ouer against Westminster commonlie called Lambe [...]h, and was buried in Christs church at Can|turburie.
The Chronicles go on to give a not so flattering account of Cardinal Pole's life, accusing him of "barbarous" behaviour and blemishing "the honour of his descent. You can read this account in the 1587 version of The Chronicles at The Holinshed Project.
Diarist and merchant Henry Machyn records how Cardinal Pole's remains were taken on 10th December from Lambeth to Canterbury in preparation for his burial:
The sam mornyng my lord cardenall was [removed from] Lambeth, and cared toward Canturbery with grett [company in] blake; and he was cared in a charett with [banner-]rolles wroth [wrought] with fyne gold and grett baners [of arms,] and iiij baners of santes in owllo [oil].
In Ecclesiastical Memorials, John Strype writes:
Cardinal Pole died the same day that Queen Mary did; and not many hours after her. His last will may be seen in Holinshed's History. Therein he desired his successor would not sue his executors for dilapidations, seeing he had bestowed more than a thousand pounds within these few years in repairing and making such houses as belonged to the see, since he came to it. The overseers of his will were Nicholas Archbishop of York, lord chancellor; Thomas Bishop of Ely; Ed. Lord Hastings, lord chamberlain; Sir John Boxal, the Queen's secretary; Sir Edward Cordal, master of the rolls; Henry Cole, vicar general of the spiritualities.
Strype goes on to describe how there was "a secret report among Papists, abroad soon after, that both Queen Mary and Cardinal Pole, came to their ends by poison but that Dr. Haddon, "a knowing man", put their deaths down to "an infectious fever that the nation then laboured under [...] an outrageous burning fever [...]".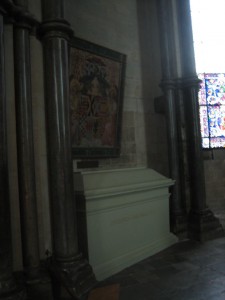 Notes and Sources
Images: Cardinal Reginald Pole, Archbishop of Canterbury, by Sebastian del Piombo, and tomb of Cardinal Reginald Pole from Wikimedia Commons.
Britton, John (1836) Cathedral Antiquities: Historical and Descriptive Accounts, with 311 Illustration, of the Following English Cathedrals...
Holinshed's Chronicles of England, Scotland, and Ireland, 1587 edition, The Holinshed Project.
'Diary: 1558 (Aug - Dec)', in The Diary of Henry Machyn Citizen and Merchant-Taylor of London (1550-1563), ed. J G Nichols (London, 1848), pp. 169-184 http://www.british-history.ac.uk/camden-record-soc/vol42/pp169-184 [accessed 10 December 2015].
Strype, John (1822) Ecclesiastical memorials; relating chiefly to religion, and the reformation of it..., p. 143. This can be read on Google Books.
On this day in history, 15th December 1558, Cardinal Reginald Pole, Mary I's Archbishop of Canterbury, was buried at Canterbury Cathedral. His rather plain tomb can be found on the north side of the Corona (or Becket's Crown) in the cathedral. Pole was the last prelate to be buried in the cathedral.