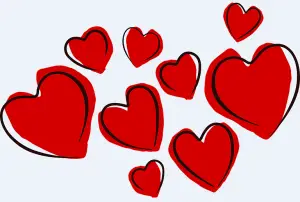 As today is Valentine's Day, I thought I would share this extract from our Feast Days section, as well as looking at some historic Valentine's letters...
Steve Roud, in The English Year, writes of how the origins of Valentine's Day are "obscure" and that the romantic traditions associated with it have nothing to do with either of the martyrs believed to have been the St Valentine commemorated on this day.
Geoffrey Chaucer wrote in the 14th century of how birds would choose their mates on Valentine's Day and this theme has been repeated in other pieces of literature. In John Lydgate's 15th century poem, "A Valentine to her that Excelleth All", he writes of how it was the custom on Valentine's Day for people to choose their love:
To look and search Cupid's calendar
And choose their choose, by great affection.
In her book Pleasures & Pastimes in Tudor England, historian Alison Sim writes of how the Tudors obviously did celebrate St Valentine's Day because it is mentioned three times in the Paston Letters in the 1470s. Apparently, "valentines were chosen by lot from among a group of friends, who then had to buy their valentine a gift." Sim goes on to describe how the steward's accounts of the household of William Petre show lengths of cloth and gold trinkets being given to valentines who were chosen by lot and that one year "one of the maids was even fortunate enough to draw Sir William himself one year, and was given a whole quarter's extra wages as her valentine."
I had a browse through The Paston letters: a selection illustrating English social life in the fifteenth century edited by M. D. Jones and found the following Valentine letters written by Margery Brews to John Paston in February 1477 (1476 by the Tudor calendar):
"Unto my right well-beloved Valentine, John Paston, Esquire, be this bill delivered, etc.
(1476-7)
Right reverend and worshipful and my right well-beloved Valentine, I recommend me unto you, full heartily desiring to hear of your welfare, which I beseech Almighty God long for to preserve unto His pleasure and your heart's desire. And if it please you to hear of my welfare, I am not in good heele of body, nor of heart, nor shall be till I hear from you:
For there wottys no creature what pain that I endure,
And for to be dead, I dare it not discur'.
And my lady my mother hath laboured the matter to my father full diligently, but she can no more get than ye know of, for the which God knoweth I am full sorry. But if that ye love me, as I trust verily that ye do, ye will not leave me therefore; for if that ye had not half the livelihood that ye have, for to do the greatest labour that any woman alive might, I would not forsake you.
And if ye command me to keep me true wherever I go,
I wis I will de all my might you to love, and never no mo(re).
And if my friends say, that I do amiss,
They shall not me let so for to do,
Mine heart me bids ever more to love you
Truly over all earthly thing,
And if they be never so wrath
I trust it shall be better in time coming.
No more to you at this time, but the Holy Trinity have you in keeping. And I beseech you that this bill be not seen of none earthly creature save only yourself, etc.
And this letter was endited at Topcroft, with full heavy heart, etc.
By your own
Margery Brews."
The second letter:
"To my right well-beloved cousin John Paston, Esquire, be this letter delivered, etc.
(1476—7)
Right worshipful and well-beloved Valentine, in my most humble wise, I recommend me unto you, etc. And heartily I thank you for the letter, which that ye send me by John Beckerton, whereby I understand and know that ye be purposed to come to Topcroft in short time, and without any errand or matter, but only to have a conclusion of the matter betwixt my father and you; I would be most glad of any creature alive so that the matter might grow to effect. And thereas ye say, and ye come and find the matter no more towards you than ye did aforetime, ye would no more put my father and my lady my mother to no cost nor business, for that cause a good while after, which causeth my heart to be full heavy; and if that ye come, and the matter take to none effect, then should I be much more sorry, and full of heaviness.
And as for myself I have done and understand in the matter that I can or may as God knoweth; and I let you plainly understand, that my father will no more money part withal in that behalf, but a hundred pounds and fifty marks, which is right far from the accomplishment of your desire.
Wherefore if that ye could be content with that good, and my poor person, I would be the merriest maiden on ground; and if ye think not yourself so satisfied, or that ye might have much more good, as I have understood by you afore; good, true and loving Valentine, that ye take no such labour upon you, as to come more for that matter, but let (what) is, pass, and never more to be spoken of, as I may be your
true lover and beadwoman during my life.
No more unto you at this time, but Almighty Jesu preserve you both body and soul, etc.
By your Valentine,
Margery Brews."
You can see a photo of one of the originals of these letters on the British Library website at http://britishlibrary.typepad.co.uk/digitisedmanuscripts/2011/02/the-oldest-valentine.html.
You'll be be glad to hear that John Paston married Margery Brewes and that the couple had three children: Christopher, William and Elizabeth.
Notes and Sources
Roud, Steve (2006) The English Year
Sim, Alison (2011) Pleasures and Pastimes in Tudor England
ed. Jones, M. D. (1922) The Paston letters : a selection illustrating English social life in the fifteenth century - this can be read at https://archive.org/details/pastonletterssel00jone