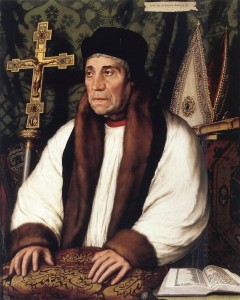 William Warham was born in Church Oakley in Hampshire to parents Robert and Elizabeth. His origins were humble, evidenced by a commemorative brass in Church Oakley presumably set up by William himself, the brass carrying with it no emblems of social distinction. His uncle was also a carpenter, which further hints at his humble upbringing. William was educated at Winchester College and New College, Oxford, becoming a fellow in 1475 and acquiring a doctorate in canon law.
In 1448, Warham moved to London to take up a post in the Court of Arches, and two years later, it is believed he went to Rome as a proctor of John Alcock, Bishop of Ely. Soon after, he began to procure sinecures, including the archdeaconry of Huntingdon and the precentorship of Wells. In 1491, Warham performed his first secular duty when he was appointed to the English party sent to Antwerp to discuss disputes with merchants. In 1493, he travelled to Burgundy to meet with Margaret, Duchess of Burgundy, to attempt to halt support for Perkin Warbeck, a pretender to the English throne. In February 1494, he received his long-awaited royal preferment to the mastership of the rolls. This position granted him numerous opportunities as be began to negotiate the marriage of Prince Arthur and Katherine of Aragon with the Spanish ambassador. In 1501, his negotiations with Emperor Maximilian I ensured that he was able to hand over a major threat to the reign of Henry VII – Edmund de la Pole.
All this aside, however, Warham still had not managed to procure a significant office in either church or state, but that changed suddenly. He was awarded the keepership of the great seal in 1501 and though not consecrated until 1502, was given the vacant see of London in October 1501. By 21st January 1504, he had been given the title of Lord Chancellor, and at royal request, Pope Julius II had him moved from London to Canterbury, where he was sworn in as archbishop on 9th March 1504. By this point, Warham was in his mid-fifties, and his meteoric rise following a slow start would have him become Canterbury's second longest-serving archbishop.
Once, archbishop, Warham had considerable power and influence and presided over important events. Such events included the coronation of Henry VIII and Katherine of Aragon on 24th June 1509 and opening speeches in parliament in 1504, 1510, 1512 and 1515. He also presented the golden rose given to Henry by Pope Julius and spent a large amount of his time actively involved in matters of the church. In 1504, at Warham's first convocation, he spoke in defence of the 'liberties; of the church in England, meaning the legal privileges of churchmen. A bill was passed which reached some form of compromise, where minor clergy had their 'benefit' (immunity from the king's courts when accused of serious crimes) revoked. This bill ran for three years, and when it came time to renew it in 1515, a debate between church and state began. This revolved around the case of Richard Hunne, allegedly murdered in 1514 by the Bishop of London's officers following an argument over mortuaries. This event brought Warham into direct conflict with Henry VIII, and the event culminated in a conference at Baynard's Castle. Warham reminded the assembly that a predecessor had died a martyr in defence of liberties, but the king replied that kings had no superior, other than God. Warham suggested taking the matter to Rome, but this was ignored- a sign of things to come perhaps.
After this small altercation at Baynards Castle, Warham then found himself involved with a man named Thomas Wolsey, the new Archbishop of York, to whom he was handing over the red hat of cardinal. On 22nd December 1515, Warham resigned his position as Lord Chancellor and passed the title to Wolsey. There is speculation that he was dismissed by the king, but others such as Polydore Vergil believe he was ousted by the ambitious Wolsey. Thomas More, however, declared that Warham was glad to resign to focus entirely on his spiritual duties.
In May 1527, these spiritual duties took on new heights in the form of the 'Great Matter.' As archbishop, Warham was inevitably involved in the matter, and as someone who had issued doubts about the original papal dispensation in 1509, he was expected to give the king full loyalty and support in his quest for an annulment. In 1527, Warham agreed to examine the case of the king's divorce with Wolsey in secret. However, it soon became clear that the matter would need to be taken to Rome, and Henry VIII persuaded Pope Clement VII to send Cardinal Lorenzo Campeggi to preside with Wolsey at a legatine court in Blackfriars. Warham was instead appointed to Katherine's counsel. When, in 1529, Katherine outwitted Henry by appealing to Rome, things looked bleak and resulted in the dismissal of Wolsey and the beginning of the Reformation. This affected Warham as it was he who delivered to convocation Henry's demands to be recognised as head of the church, possessing the spiritual cure of his subjects. Warham, along with his colleagues rejected the latter part of this statement, only putting it to convocation once the words 'as far as the law of Christ allows' were added. During the struggle to move the divorce proceedings back to England, Henry named Warham as the person most fit to be appointed the judge of this case and praised him for his integrity.
Warham, however, was not praised for his integrity for long as he soon became involved with Elizabeth Barton, the Holy Maid of Kent. He also began to display increasingly pro-Catholic leanings and sentiments in support of the pope, and, in March 1532, he publicly reproached the king for his conduct during the divorce proceedings. Due to his defiance, Warham soon found himself being charged with praemunire. He was accused of misprision of treason on the grounds that years prior, he had consecrated the Bishop of St Asaph before royal assent had been given. The charges were undoubtedly trumped up, and Warham was set to become another victim to the king's Great Matter. The only evidence we have from this charge is a speech written down by Warham himself, which is full of defiance and righteous indignation. Warham never got to deliver this speech, however, as he died on 22nd August 1532. He is buried in Canterbury Cathedral.
By Georgia Whitehead
Georgia has just finished her masters in Classics at the University of Edinburgh. Academically, Georgia is interested in early Christianity, with her master's thesis focusing on "The Male Gaze and Self-Representation in Female Christian Narratives". In addition to her interest in ancient history, she has always been an avid lover of the Tudor era, drawn to the magnificence of the Tudor courts and the larger than life characters. She is particularly interested in The Reformation, Christianity and the shifting sands of ecclesiastical politics in this period and also has a keen interest in the lives of Tudor women. It is Georgia's ambition to become a writer, perhaps publishing her own Tudor novel one day.
Georgia also runs a history blog and instagram page called Historia Mundis.
Bibliography
John Sherren Brewer, Reign of Henry VIII (1884)
P. Gwyn, The king's cardinal: the rise and fall of Thomas Wolsey (1990)
J. J. Scarisbrick, "Warham, William (Oxford Dictionary of National Biography (online ed.). Oxford University Press.
James Gairdner, The English Church in the 16th Century (1902)