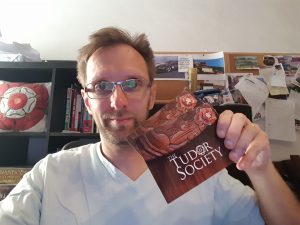 Hello to all full society members!
Well, we've had an incredibly busy time packaging up all the pin badges for full members, and we've sent them all out now... they should be arriving in your post box any day now!
We thought we'd have a little fun, with a fantastic prize to give away too!
Send us your Pin Badge photo!
If you want the chance to win a signed copy of Leanda de Lisle's fantastic book Tudor: The Family Story then all you have to do is send us a photo of yourself with your pin badge. Use some creativity and have some fun with what's in the photo - show us your addiction to the Tudors, show us your most prized Tudor item along with yourself and your badge, wear your Tudor costume, show us other pin badges you've collected, take it at a Tudor place... whatever you want as long as it shows your pin badge! We'll choose the best one.
How to enter...
ONLY OPEN TO FULL MEMBERS - email your photo to [email protected] before 20 October 2017 to enter the competition
We'll be putting a selection of the photos into a future edition of Tudor Life magazine too!
---
Here are photos of Leanda de Lisle signing the book you might win!