In this new series called Tudor Meals, we will be making and taste testing Tudor recipes for you. This month we baked Shrewsbury biscuits! This treat was enjoyed in Tudor times by wealthy people, because it includes ingredients such as cinnamon and sugar.
We started our search for a Tudor recipe and stumbled upon this website. To make life a little easier, we chose one which isn't too extravagant. If you would like to make these biscuits, then follow us along on this baking journey!
Ingredients
3½ cups of plain flour (450 in grams)
1½ cups of sugar (375 in grams)
2 eggs
½ tsp cinnamon
1½ cups of butter (340 in grams)
Dash of rosewater
Pinch of salt
The recipe
Step 1: Gather all your dry ingredients: flour, sugar, cinnamon and salt. Mix them all together in a large mixing bowl.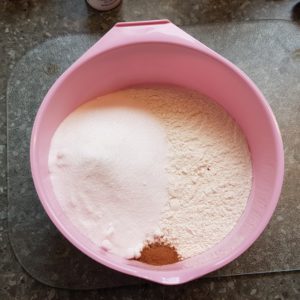 Step 2: Then using your fingers, rub in the butter. This can get a little messy, but the result is a crumbly dough.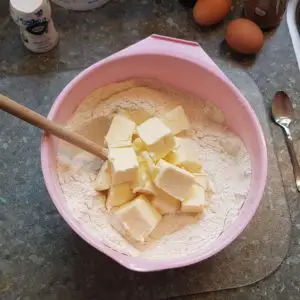 Step 3: When all the butter is rubbed in, add the rosewater and eggs using a spoon. Stir the mixture until it is a dough. The recipe called for stirring with a spoon, but we mainly used our fingers as the dough was quite firm.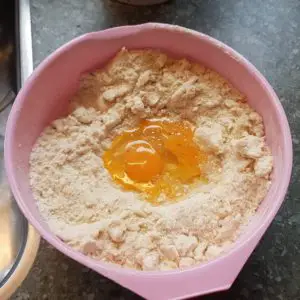 Step 4: Cut the dough in 16 equal balls, then pat them out to make a 10cm round shape. We hadn't used enough butter, so our dough was rather crumbly. So instead of cutting the dough into balls, we tore of pieces and rolled them into smaller balls.
Step 5: Place the round biscuits on a greased baking tray and bake for 10 - 15 minutes at 180℉/350℃. We thought this was a very high temperature, so we looked up online and realized that the recipe had switched Celsius and Fahrenheit around. So the real temperature is 180℃/350℉.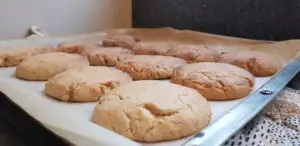 Step 6: Let the biscuits cool and then enjoy!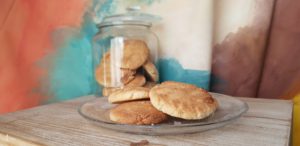 Taste test!
Although we didn't add enough butter and we were worried about the rosewater being overpowering in flavour, these biscuits are delicious! It tastes like your average biscuit, but definitely worth making again. If you end up making these Tudor treats, send us a picture or tag us.