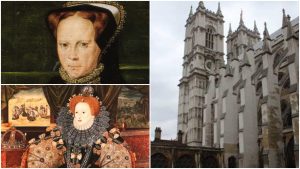 Thank you to Lynne for asking these two questions about the shared tomb of Queens Elizabeth I and Mary I: "Why did James I decide to bury Elizabeth I on top of her sister Mary? Why is Elizabeth I's effigy visible with her mother's coat of arms and nothing on display for Mary?"
Let me tell you about their burials and their present resting place at Westminster Abbey.
Queen Mary I, daughter of Henry VIII and his first wife, Catherine of Aragon, died on 17th November 1558. Mary left instructions in her will for her mother's remains, which had been buried at Peterborough Abbey, to be exhumed and brought to London so that Catherine could be buried with Mary. However, her instructions were ignored; Catherine remained at Peterborough and Mary lay in state at St James's Palace until her funeral on 14th December 1558, when she was buried at Westminster Abbey with just stones marking her resting place. You can read more about her funeral in my article 14 December 1558 – Burial of Queen Mary I.
On Mary's death, her half-sister, Elizabeth, had become queen. Elizabeth reigned for over 44 years, until her death on 24th March 1603. Her body lay in state at Whitehall until her funeral on 28th April 1603 at Westminster Abbey. You can read about her funeral in my article 28 April 1603 – Elizabeth I's funeral, but she was laid to rest in the vault of her grandfather, Henry VII, at the abbey.
In 1606, Elizabeth's successor, King James I, had Elizabeth's remains moved to join those of her half-sister, Mary, in the north aisle of Henry VII's Chapel in Westminster Abbey. Elizabeth's coffin was placed above that of Mary in a vault below a new white marble monument ordered by James and made by sculptor Maximilian Colt and painted by Jan de Critz. It bore Elizabeth I's effigy and Latin inscriptions which were all about Elizabeth and her reign - these can be read in English at https://www.westminster-abbey.org/abbey-commemorations/royals/elizabeth-i/. On the base of the monument is a Latin inscription which does mention Mary. It translates to:
"Partners in throne and grave, here we sleep Elizabeth and Mary, sisters in [the] hope of the Resurrection"
Although the tomb may look magnificent in photos on Westminster Abbey's website, it is nothing compared to that of Mary, Queen of Scots. After her execution in 1587, Mary, Queen of Scots, had been buried at Peterborough Abbey, but her son, James I of England, Elizabeth I's successor, had her remains removed to Westminster Abbey in 1612. There, in the south aisle of the Lady Chapel, he'd had erected a spectacular marble tomb complete with a marble effigy of Mary lying under a canopy. The sculptors involved in the making of this tomb and effigy were William and Cornelius Cure. It is far bigger and much more eye-catching than the tomb of Elizabeth I and Mary I - Mary, Queen of Scots was his mother after all.
I can only speculate on why James decided to bury Elizabeth on top of Mary. I think it was a practical move in that Mary I was originally in that spot, so Elizabeth's coffin could be added on top and then the tomb built over the vault. With regards to why there is no effigy for Mary I, I would think that was because Mary had died over forty years ago and had only reigned for five years. I suspect that James wanted to pay tribute to his predecessor, Elizabeth, but felt no need to do anything for Mary, who was long gone. Perhaps he also did not want to dredge up the past, it's hard to say. It is, however, sad that Mary I is overshadowed by her half-sister in this way.
You can see photos of ther tomb at https://www.westminster-abbey.org/abbey-commemorations/royals/elizabeth-i/