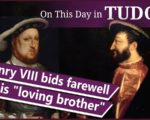 On this day in Tudor history, 29th October 1532, King Henry VIII bid farewell to his "loving brother", his French counterpart, King Francis I.
The two kings had enjoyed each other's company at Calais and Boulogne, and Henry VIII was pleased with their meetings. In fact, things had gone so well that Henry VIII decided to marry Anne Boleyn!
Find out more about their farewell, and what had happened during the trip, in today's talk.
[Read More...]