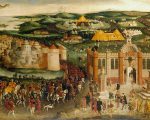 This day in Tudor history, 7th June 1520, was the first day of that historic meeting between King Henry VIII of England and King Francis I of France.
The meeting was known as the Field of Cloth of Gold and although it was a diplomatic meeting, it was a chance for these two Renaissance kings to show off to each other and try to outdo each other with their wealth, costumes and even strength.
Find out more about this famous meeting in today's video.
[Read More...]