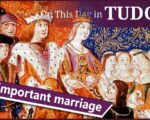 On this day in history, 19th October 1469, an event took place in Spain that was not only important in Spanish history, but which had an impact on Europe and which has links with the Tudors.
The event was the marriage of an eighteen-year-old woman called Isabella and a seventeen-year-old man called Ferdinand.
They'd become the famous Reyes Catolicos, the Catholic monarchs, Isabella I of Castile and Ferdinand II of Aragon, and would bring together two powerful kingdoms, which comprised most of what is modern-day Spain.
In this talk, I tell you more about this powerful couple, their reigns and their legacy.
[Read More...]