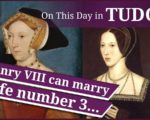 On this day in Tudor history, 19th May 1536, Queen Anne Boleyn was executed within the confines of the Tower of London.
It must have been an incredibly hard day for the queen's friend, Archbishop Thomas Cranmer. Not only did he have a visit from a friend regarding a terrifying vision, in the early hours… Not only did he have to cope with the idea of his friend and patron being beheaded, but he had to issue a dispensation for the king to marry again!
Find out more in today's talk.
[Read More...]