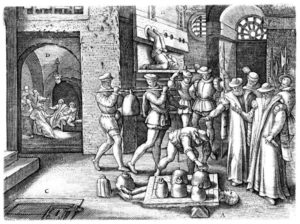 Margaret Clitherow was born in around 1552 in York and was the daughter of Jane Middleton and Thomas Middleton, a wax chandler and freeman of York. It is believed that she would have been baptised at the Church of St Martin, where her father served as a churchwarden between 1555 and 1558. At around the age of 18, Margaret married John Clitherow in July 1571. John Clitherow was a widower with two sons and a wealthy butcher who became a freeman in 1560 and elected a chamberlain in 1574.
Following her marriage to John, Margaret moved to the Shambles in York, where she helped her husband with his business. Although we know that Margaret had numerous children, we do not know the exact number, but we know that in addition to her stepsons, she had a son Henry and a daughter named Anne. In 1576, she was pregnant and again in 1581. She was released from prison to give birth, but we don't know whether these children survived.
In 1574, Margaret converted to Catholicism, apparently drawn to the faith by the tales of priests and people suffering for their beliefs. After her conversion to Catholicism, Margaret accommodated fugitive priests and provided her neighbours and fellow Catholics with access to the Catholic sacraments. Due to her actions, there seems to have been a high amount of recusancy in her parish, which would indicate that her efforts to promote and practise Catholicism were successful. However, with success came censure and eventually her actions were brought to the local authority's attention, and her husband John Clitherow incurred regular fines for her actions. Although Margaret converted to Catholicism, her husband remained a Protestant, and it is believed that he railed against Catholics when at a dinner, which upset his wife. The story says that he tried to reassure Margaret, saying she was an upstanding wife in all but two things: her excessive fasting and her refusal to go to church with him and worship.
Following the fines she incurred against her husband, Margaret was eventually imprisoned several times for her refusal to conform, and she served three separate sentences in York Castle. The first was between August 1577 and February 1578, the 2nd October 1580 and April 1581, and the third between March 1583 to sometime in winter 1584. Prison, however, may not have had the desired effect on Margaret as she learned to read and seemed to relish the monastic-like regime of prayer and deprivation that prison offered.
Despite being incarcerated, and increasingly harsh measures and legislation being taken against Catholics, such as the legislation introduced in 1585, which made harbouring clergy a capital offence, Margaret continued her activities. However, her activities did not last for long, and on 10th March 1586, her home was searched, and a scared child revealed the secret room where the priests hid, complete with items used in Catholic worship. The priest escaped and was hidden in the house next door, but Margaret was not so fortunate. She was taken once again to prison, and on 14th March, she appeared at the assizes charged with harbouring a priest. She was supposedly asked to plead, but to no avail. She refused a trial by jury and incurred the penalty of 'peine forte et dure', which translates as 'hard and forceful punishment.'
The following week saw her family, friends and protestant preachers attempt to persuade her to submit or state that she was pregnant, which would grant a stay of execution. However, Margaret refused, and on 25th March 1586, she was taken to the toll-booth on the Ouse Bridge and pressed to death by her own door, laden with heavy rocks. Weeks later, her body was found by John Mush, and, along with friends, he had her buried in accordance with Catholic rites.
After his wife's death, John Clitherow remained a Protestant; however, his kids inherited their mother's rebellious legacy. Anne Clitherow ran away and was imprisoned at Lancaster due to her religion in 1593. Following her arrest, she became a nun at St Ursula's in Louvain from 1598. Henry Clitherow studied at the English colleges in Rheims and Rome, temporarily joining the Capuchins in 1592 and following that the Dominicans. Her stepson William became a seminary priest in 1608, and Thomas was imprisoned for his rebellion against Protestantism, dying in Hull prison in 1604.
Margaret Clitherow was beatified in 1929 and eventually canonised on 25th October 1970.
by Georgia Whitehead
Georgia has just finished her masters in Classics at the University of Edinburgh. Academically, Georgia is interested in early Christianity, with her master's thesis focusing on "The Male Gaze and Self-Representation in Female Christian Narratives". In addition to her interest in ancient history, she has always been an avid lover of the Tudor era, drawn to the magnificence of the Tudor courts and the larger than life characters. She is particularly interested in The Reformation, Christianity and the shifting sands of ecclesiastical politics in this period and also has a keen interest in the lives of Tudor women. It is Georgia's ambition to become a writer, perhaps publishing her own Tudor novel one day.
Georgia also runs a history blog and instagram page called Historia Mundis.
Here is Claire's video on Margaret Clitherow and her awful execution: