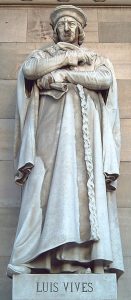 On this day in history, 6th March 1492, Juan Luis Vives was born in Valencia, Spain.
Juan Luis Vives was a scholar and humanist, and is known for being the friend and adviser of Catherine of Aragon, first wife of King Henry VIII, and the tutor of the couple's daughter, the future Mary I. Catherine of Aragon commissioned him to write the treatise Education of a Christian Woman (Instruction of a christen woman) and he created the Satellitium animi, or Escort of the Soul, a study plan for the Princess Mary, which also included "spiritual mottoes and devices". It was the forerunner of the 16th- and 17th-century emblem books, books which contained a number of emblematic images with an accompanying explanatory text.
As well as tutoring Princess Mary, Vives also lectured in philosophy at Corpus Christi College, Oxford, and produced a number of educational, religious and philosophical works, including the De disciplinis, De anima et vita and De veritate fidei Christianae.
Vives died at Bruges on 6th May 1540 and, was buried at the St Donatian Church which was destroyed in 1799.
Here are some links to read more about Vives' work: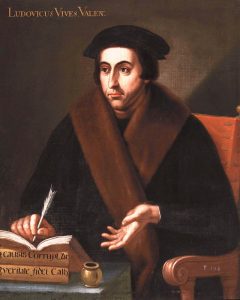 Notes and Sources
Pictures: Statue of Juan Luis Vives by Pere Carbonell (1892), placed at the façade of the National Library of Spain, photo by Luis García, Wikimedia Commons; Retrato del insigne humanista español Juan Luis Vives [Ioannes Lodovicus Vives] (1492-1540), Wikipedia.es.
Ridgway, Claire (2012) On This Day in Tudor History, MadeGlobal Publishing.