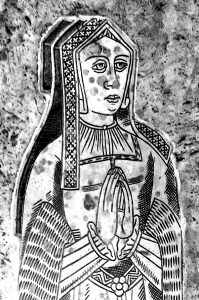 Honor Grenville was born around c.1493-95; the daughter of Sir Thomas Grenville and his wife, Isabella Gilbert. Thomas was of Cornish origin, from the parish of Stowe in Kilkhampton, Cornwall. Honor was first married to Sir John Basset (1462-1528) of Umberleigh in the Parish of Atherington in Devon. The marriage was fairly ideal for the daughter of a gentry family. Her father was a well-respected Lord of the Manor of Stowe and Bideford in Devon. Additionally, he was a renowned Lancastrian supporter during the Wars of the Roses period, appointed one of the Esquires of the Body to Henry VII. Honor's husband was Sherriff of Devon in the years 1497, 1517 and 1522, respectively and an important figure in West country politics. The couple produced seven surviving children, who entered a variety of careers. These children shall be explored later in the article.
While the marriage was ideal in terms of production of children, Honor's second marriage would propel her into more discernible society. Her husband, John Basset, died in 1528, with Honor soon after marrying Arthur Plantagenet, 1st Viscount Lisle, thus becoming Lady Lisle. Her husband was later given the office of Lord Deputy of Calais. Most significantly about Arthur was his lineage, being the illegitimate son of King Edward IV and therefore having Plantagenet blood. He was the half-brother of Queen Elizabeth of York and uncle of the current king of this period, Henry VIII – an uneasy connection.
As Lord Lisle's wife, Honor received a reputation for upholding a well-respected household and as an influential, if not absent, member of the English court. In 1532 she accompanied Lord Lisle to Calais and was one of six ladies appointed to attend upon Anne Boleyn, who had accompanied Henry VIII there. An extremely prestigious opportunity, Honor was now evidently part of an exclusive, elite group of individuals with access to the royal family.
Upon her husband's succession to the office of deputy of Calais, Honor accompanied him to the town and became an important figure in the social and diplomatic side of Calais politics. This kind of feminine involvement was not always appreciated by contemporaries, specifically historian and martyrologist John Foxe. In his famous 'Acts and Monuments' he denounces Lady Lisle as the 'utter enemy to God's honour, and in idolatry, hypocrisy, and pride, incomparable evil'. There are two potential explanations for this defamation of character. Firstly, Honor was of a conservative religious background. She lived well into the Reformation, and there is practically no evidence to suggest she converted to a more Anglicised form of worship. Secondly, she was a desperately ambitious and strategic woman. As will be examined, she utilised her status as a means of promoting her family. This type of 'outwardly' female involvement and influence may have been viewed by reformist men, such as Foxe, as disturbing and potentially threatening to the natural order of sixteenth-century gender roles.
Regardless of contemporary criticism, Honor capitalised on the concept of living in France. In 1534 she sent son James (the youngest Basset child from her first marriage) to be educated in Paris at the College de Calvi under the protection of Guillaume Poyer, the President of the Parlement de Paris, whom her husband had met as part of a French embassy. Similarly, her other son, George, was educated at Saint-Omer in 1536 to study French. In a period where few aristocratic girls were provided with an education, Lady Lisle decided to place her daughters in the care of illustrious French families. These fashionable households were intended to teach impressionable young women the French language and female skills such as household management, embroidery and music. This was a convenient means of creating ties of mutual obligation between distinguished households; families benefited from this type of communication and relationship. Lady Lisle was extremely strategic in selecting which daughters should be placed for training in the art of French language and culture, and whom would benefit from this education. French style was at the height of fashion during the mid-sixteenth-century, both domestically and abroad in England. Henry VIII was a renowned Francophile, and French women were regarded as the most beautiful and graceful amongst European courts. Honor accepted that her eldest daughter, Philippa, was not fit for royal service due to her age, and that her daughter Katherine was not 'fair' enough; essentially, not attractive enough. While to contemporary readers this may seem shocking, physical beauty was thought to represent inner virtue and desirability, therefore Katherine was not the ideal model.
Perhaps most significant regarding Lady Lisle's career are her contributions to the Lisle Letters. They are an invaluable source of primary literature from Henry VIII's reign, providing intimate details documenting her household goings-on. These letters describe not only the political, social and cultural events of her time, but also attempts to advance her family's position within the English aristocracy. This is evident in her lobbying Queen Jane Seymour for a position as maid of honour for her daughter Anne. The latter was a newly established queen and wished to cement her own style of queenship; famously banning French hoods and opting for an un-French, English style of clothing to disassociate herself from Anne Boleyn. Honor's daughter, Anne, was deemed attractive and was sworn into the service of the queen. As historian Barbara Harris has argued, physical beauty and presentation were a type of currency for young, aristocratic women; a woman's 'primary qualification', especially for winning appointment as a maid of honour at court. Lady Lisle persisted in her efforts to advance her family, sending large amounts of quails to Jane in an effort for her to relent to her demands. Similarly, this style of gift-giving was popular during this period; a way in which to cement friendships and form alliances between distinguishable families.
A place at court for one of her daughters not only benefitted the girl in discussion, but also the family's connections. It ensured a member of the Lisle family was resident in the foremost political and social environment of the country. Essentially, it provided Lord and Lady Lisle with close proximity to the royal goings-on at court. Similarly, Lady Lisle used gifts and visits to cultivate a network with both the French women and the English court ladies, based on the concept of 'political friendship'. This was a form of alliance that, as historian James Daybell observes, 'promised repayment of favours, assured the friendship of themselves and husbands and mobilised alliances of family and friends'. This is even more significant as a result of Lady Lisle's residence across the Channel in Calais; in a period of limited communication. Calais was naturally a less fashionable location when compared to the royal Tudor court in London.
Unfortunately, Lady Lisle's lifestyle changed drastically as a result of her husband's arrest. Arthur was confined to the Tower in 1540 due to his reported involvement in a plot to betray Calais. Calais was, at this time, an English overseas possession and therefore incredibly important to England. While not overly assuming and powerful, it was convenient for trade and as a subtle threat to the French. In 1542 Arthur died in the Tower of London, leaving his wife and two daughters, Mary and Philippa, under house arrest. Later on, Honor's household was broken up with the vast proportion of her possessions being taken in by the Treasury of Calais. Much animosity was directed at Honor during her husband's downfall – likely the result of her unwavering support for Catholicism. Essentially, contemporaries stressed that Honor was working with Rome in order to reunite Calais with the French. These were likely rumours and the result of an active sense of anti-Catholic sentiment in England. It was not long until Honor returned to England, after having been released on 9th March 1542 from house arrest. She retired from public life and essentially retired. Little is recorded of Honor's activity in the final two decades of her life, but it is likely that she resided at the Basset manor of Tehidy in Cornwall. She died at Tehidy and was buried in Illogan church on 30th April 1566.
By Alexander Taylor
Picture: Detail of Honor from the monumental brasses of Sir John Basset (1462–1529) with his two wives: Elizabeth Denys and Honor Grenville, from the top slab of his chest-tomb at Atherington Church, Devon.
Sources accessed
Grummitt, D. (2004). "Plantagenet, Arthur, Viscount Lisle (b. before 1472, d.1542), soldier, diplomat, and administrator". Oxford Dictionary of National Biography.
Nicholsfigueiredo, Jasmine, "The Lisle Letters: Lady Honor Lisle's epistolary influence", (PhD Thesis), Simon Fraser University (2014).
Whitehead, Barbara, "Women's Education in Early Modern Europe. A History, 1500-1800", (1999).