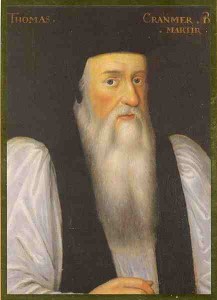 On this day in history, 2nd July 1489, one of my favourite Tudor personalities, Archbishop Thomas Cranmer, was born in Aslockton, Nottinghamshire.
Cranmer had a major impact on Tudor England. Not only did he provide Henry VIII with the annulment of his first marriage to Catherine of Aragon, he was also a key player in the English Reformation, and, of course, he was burnt at the stake for his faith in the reign of Queen Mary I.
You can read more about him in the following articles, here and over at The Anne Boleyn Files:
You can read more about his life in Beth von Staats' book Thomas Cranmer in a Nutshell and Diarmaid MacCulloch's biography Thomas Cranmer: A Life.