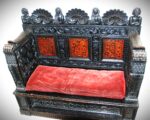 Thank you to John Roberts for this update - click here for John's original article.
Tudor Society followers from four years ago may remember this historic bench and its many references to Henry VIII and his first wife Catherine of Aragon.
Many notable historians of ancient furniture, including Jonathan Foyle, have determined that the bench displays woodworked artistry from between the 16th-19th centuries, so the question now remains, why were talented craftsmen adding on to a work of art rather than creating one?
The penny dropped early one morning this week with the theory that it's not the BENCH that is the main study here but the HEADBOARD!