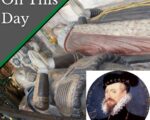 On this day in Tudor history, 10th October 1588, in the reign of Queen Elizabeth I, the queen's favourite, Robert Dudley, Earl of Leicester, was buried.
He was laid to rest in the Beauchamp Chapel of the Collegiate Church of St Mary, Warwick, according to his instructions.
Leicester's funeral was well-attended and his widow, Lettice (née Knollys), a woman known by Elizabeth I as "the she-wolf", erected a monument to "her best and dearest husband" in the chapel. The chapel is also the resting place of the couple's young son, Robert, "the noble impe", Lettice, and Leicester's brother, Ambrose.
Find out more about Leicester's funeral and resting place, and see some photos of his tomb…
[Read More...]