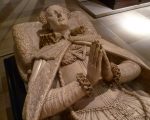 Thank you to regular contributor Heather R. Darsie for writing this article on the tomb of Mary, Queen of Scots.
Mary, Queen of Scots, lost her life on 8 February 1587. She was not buried for almost a full five months, finally being laid to rest on 5 August 1587 in Peterborough Cathedral. Peterborough Cathedral already had one queen buried there, namely Katharine of Aragon, buried in 1536.
Peterborough Cathedral has an impressive history beginning in 655 BCE when the site was home to a monastery. During the years surrounding 1116, the bulk of the Anglo-Saxon Chronicle was written at Peterborough. Skipping ahead to 1530, Cardinal Wolsey celebrated Easter at Peterborough after he was sent into exile by Henry VIII. In 1536, Katharine of Aragon was buried at Peterborough. Mary, Queen of Scots, was buried at the cathedral, as mentioned above, as it was close to Fotheringhay Castle, where Queen Mary was beheaded.
[Read More...]