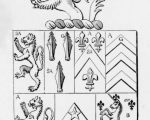 Thank you to Teri Fitgerald for writing this biography of Frances Murfyn, a little know Tudor woman, for us.
Frances Murfyn (c.1519–c.1543) was the daughter of Sir Thomas Murfyn, an alderman and former lord mayor of London, and his second wife Elizabeth Donne, daughter, and heir, of Sir Angel Donne, alderman of London and Anne Hawardine of Cheshire.
Her father died in 1523 and her mother subsequently married Sir Thomas Denys in 1524. Her older sister Mary had married, in 1523, Andrew Judde, a successful merchant and future lord mayor of London. In early 1534, her stepfather successfully negotiated a marriage between Frances and Richard Cromwell (c.1510–1544), the nephew of Thomas Cromwell. The couple were married by 8th March 1534 and they would have two sons: Henry (c.1537–1604) and Francis (c.1541–1598).
[Read More...]