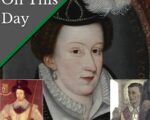 On this day in Tudor history, 24th July 1553, in the reign of Queen Mary I, merchant and conspirator Richard Hesketh was born in Lancashire.
Hesketh is known for the Hesketh Plot of 1593, when he urged Ferdinando Stanley, 5th Earl of Derby, to lead a rebellion to claim the throne of England.
But who was Richard Hesketh and why did he plot against Queen Elizabeth I?
What happened to him and what happened to Ferdinando Stanley?
And why did Stanley take bezoar stone and unicorn horn?
[Read More...]