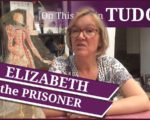 On this day in Tudor history, 23rd May 1554, Elizabeth, daughter of King Henry VIII and his second wife, Anne Boleyn, arrived at the Palace of Woodstock in Oxfordshire, where she was placed under house arrest.
Elizabeth remained under house arrest there for just under a year, and she didn't make it easy for her gaoler, Sir Henry Bedingfield, and neither did her servants.
Find out why Elizabeth was under house arrest and what happened in today's talk.
[Read More...]