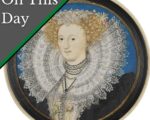 On this day in Tudor history, 27th October 1561, in the reign of Queen Elizabeth I, Mary Herbert (née Sidney), Countess of Pembroke, writer and literary patron, was born at Tickenhall, near Bewdley in Worcestershire.
Mary was the sister of poets Sir Philip Sidney and Robert Sidney, Earl of Leicester, but she was a talented lady in her own right.
The Countess of Pembroke was a writer and literary patron, and, after the death of her husband, she had fun shooting pistols, flirting, taking tobacco and dancing. She lived life to the full.
Find out more about Mary Herbert, Countess of Pembroke, who was as beautiful as she was talented, and whose work was praised by men such as William Shakespeare…
[Read More...]