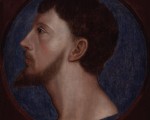 On this day in Tudor history, 11th April 1554, in the reign of the Catholic Queen Mary I, Sir Thomas Wyatt the Younger, son of poet and diplomat Sir Thomas Wyatt the Elder, was beheaded on Tower Hill after being found guilty of high treason.
Wyatt had led a rebellion which sought to depose the queen and to replace her with her half-sister Elizabeth, but he refused to implicate Elizabeth in the plot. He went to his death asserting her innocence.
Find out more about what happened and hear his final speech in today's video.
[Read More...]