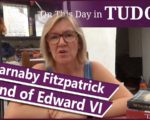 On this day in Tudor history, 11th September 1581, Barnaby Fitzpatrick, 2nd Baron of Upper Ossory, died in Dublin, at the home of surgeon, William Kelly.
In his youth, Fitzpatrick had been friends with Prince Edward (the future Edward VI) and had been educated with him. Historians once believed him to have been the young king's "whipping boy". He went on to serve Edward as a Gentleman of the Privy Chamber when Edward became kin, but ended his days as a prisoner.
Find out more about Barnaby Fitzpatrick, his life and career, and how he came to such a sad end, in today's talk.
[Read More...]