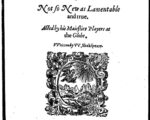 The history of Walter Calverley is not a happy one, and he is best known today as being a man capable of infanticide.
Walter Calverley was the eldest son and heir of William Calverley, a writer, and his wife, Katherine. His family were landowners in the West Riding of Yorkshire, which is where he was probably born.
Whilst he was still a child, Walter's father died, and under his father's will, Walter became a ward of William Brooke, 10th Baron Cobham. Walter also inherited the family lands at Calverley, titles to manors at Pudsey and Burley in Wharfedale, and several other pieces of land in Yorkshire. On 5th May 1579, Walter enrolled at the University of Cambridge as a scholar of Clare College alongside his brother William. They both left Cambridge in the October of that year, and Walter left Cambridge without a degree and entered into a dubious lifestyle.
[Read More...]