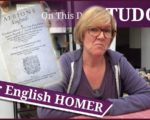 On this day in history, 11th March 1609, Tudor poet and lawyer William Warner was buried at the Church of St John the Baptist at Great Amwell in Hertfordshire.
Not many people today have heard of William Warner, but he was a well-respected and well-known poet in the Tudor era and even described as "our English Homer". He is known for his huge poem, "Albion's England, or, Historicall Map of the same Island".
Find out more about this poet in today's talk.
[Read More...]