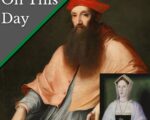 On this day in Tudor history, 4th November 1538, in the reign of King Henry VIII, Henry Pole, 1st Baron Montagu; his brother-in-law, Sir Edward Neville; Henry Courtenay, Marquis of Exeter; Courtenay's wife, Gertrude Blount, and the couple's son, Edward Courtenay, were arrested for treason. They were taken to the Tower of London.
Montagu, Neville and Exeter, along with Montagu's brother, Geoffrey Pole, were accused of plotting with Montagu's brother, Cardinal Reginald Pole, against King Henry VIII. Montagu's mother, Margaret Pole, Countess of Salisbury, was also arrested for treason.
Henry VIII had sought Cardinal Pole's opinion on his marriage and the papacy, so why were members of his family accused of treason for communicating with the cardinal?
Find out what Cardinal Pole had done to upset the king, and what happened to his family and friends…
[Read More...]