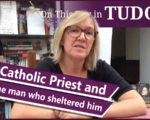 On this day in Tudor history, 24th September 1589, Roman Catholic priest, William Spenser, and layman Robert Hardesty were executed at York. Spenser was executed for being a priest, and Hardesty for sheltering Spenser.
The two men were beatified in 1987 as two of the Eight-five Martyrs of England and Wales.
Find out more about William Spenser and Robert Hardesty, and how they came to their awful ends, in today's talk.
[Read More...]