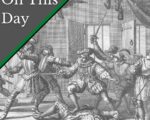 On this day in Tudor history, 5th August 1600, John Ruthven, 3rd Earl of Gowrie, and his brother, Alexander Ruthven, Master of Ruthven, were killed in mysterious circumstances at Gowrie House near Perth in Scotland.
They were killed as they allegedly tried to kidnap, King James VI of Scotland, who, in 1603, inherited the English throne from Queen Elizabeth I and became King James I.
But what happened? Did these men really try to kidnap the king or was there more to the story?
[Read More...]