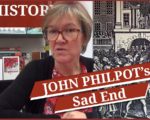 On this day in Tudor history, 18th December 1555, in the reign of Queen Mary I, John Philpott (also spelled Philpot) was executed.
The former Archdeacon of Winchester was burnt at the stake for heresy at Smithfield and died courageously.
Philpott had done a lot in his 40 years, including studying in Italy, upsetting Bishop Gardiner, and supporting fellow Protestants from his prison cell.
Let me tell you more about him…
[Read More...]