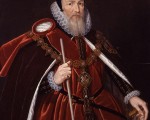 On this day in Tudor history, 13th September 1503, poet and antiquary John Leland was born. Leland is known for his Latin poems and his antiquarian writings which included a defence of the history of King Arthur, which he presented to Henry VIII and his notes on his travels around England and Wales.
Leland also wrote verses for Queen Anne Boleyn's coronation procession and was a royal chaplain. He had a very sad end, though, suffering some kind of mental breakdown and going mad.
Find out more about John Leland, his life and works...