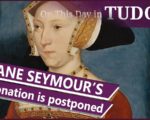 On this day in Tudor history, 3rd October 1536, imperial ambassador Eustace Chapuys wrote to Emperor Charles V informing him that Jane Seymour's coronation was being postponed.
Several dates for Henry VIII's third wife's coronation are mentioned in the contemporary sources, but they all passed by without the coronation taking place, and building work on Westminster Palace in preparation for the coronation came to a halt.
Why wasn't Jane Seymour crowned when her predecessor, Anne Boleyn, had been given a lavish coronation?
Find out more about what happened in 1536 and 1537 in today's talk.
[Read More...]