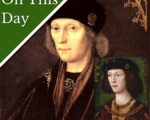 On this day in Tudor history, 21st April 1509 fifty-two-year-old Henry VII died, leaving the throne to his seventeen-year-old son, also called Henry.
Henry VII had ruled for over 23 years, since defeating King Richard III at the Battle of Bosworth in 1485.
The accession of Henry VIII, who was a good-looking and athletic young man of 6'3, was greeted with rejoicing. He seemed to be the ideal Renaissance Prince.
[Read More...]