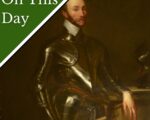 On this day in Tudor history, the night of 20th/21st June 1585, Henry Percy, 8th Earl of Northumberland, died at the Tower of London.
Northumberland was found dead in bed with a gunshot wound and on 23rd June an inquest in the Star Chamber ruled that he had committed suicide. However, it was rumoured by Catholics that he had been murdered by Sir Christopher Hatton on the orders of Elizabeth I's government. They claimed that he had been shot in the chest three times, which was not consistent with suicide.
Northumberland had been imprisoned in the Tower in January 1584 for his Catholic beliefs and his involvement in plots to do with Mary, Queen of Scots. He was laid to rest in the chapel of St Peter ad Vincula at the Tower.
[Read More...]