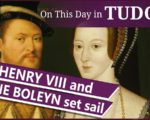 On this day in Tudor history, 11th October 1532, King Henry VIII and Anne Boleyn, the newly created Marquess of Pembroke, set sail from Dover aboard the king's ship, The Swallow.
They were off to Calais on a mission involving the Great Matter, Henry VIII's quest for an annulment. But why? What would they do there? Who would they meet?
Find out more about this trip, what happened and what happened next, in today's talk.
[Read More...]