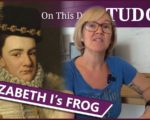 On this day in Tudor history, 10th June 1584, in the reign of Queen Elizabeth I, Francis, Duke of Anjou and Alençon, died in Paris. It is thought that he died of malaria.
Why am I talking about a French duke? Well, for a time, he was a suitor of Queen Elizabeth I and the queen even affectionately called him her "frog". It looked like Elizabeth would actually marry him.
Find out more about what happened between Elizabeth and her dear "frog" in today's talk.
[Read More...]