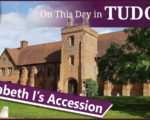 On this day in Tudor history, 17th November 1558, twenty-five-year-old Elizabeth, daughter of King Henry VIII and Anne Boleyn, became Queen Elizabeth I following the death of her half-sister, Queen Mary I.
In today's talk, I look at an alternative account of Elizabeth I's words on her accession, one recorded by her godson, Sir John Harington. Hear Elizabeth I's wonderful speech, which she used to motivate her supporters and to reassure those who'd served Mary I.
I also look at Elizabeth's words "This is the Lord's doing…", and note the importance of the previous line in the Psalm.
[Read More...]