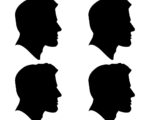 This week's Monday Martyr is actually a group of martyrs, the Dryburn Martyrs.
Roman Catholic priests Richard Hill, Richard Holiday, John Hogg and Edmund Duke were hanged, drawn and quartered on 27th May 1590, in Elizabeth I's reign, at Dryburn in County Durham.
Hill, Hogg and Holiday came from Yorkshire and Duke was from Kent, but they had all studied for the priesthood at the English College at Reims. Duke arrived in Reims in March 1583, Holiday in September 1584, Hill in May 1587 and Hogg in October 1587. They were ordained as priests in September 1589, Duke at Rome and the others at Laon.