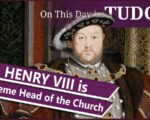 On this day in Tudor history, 3rd November 1534, Parliament passed the First Act of Supremacy, establishing King Henry VIII's supremacy of the English church and rejecting the authority of the pope.
In today's talk, historian Claire Ridgway shares what the act said and explains that it didn't actually make him head of the church, just confirmed the fact, and goes on to share the oath that people had to take and what it meant if they refused.
It was an important act in the break with Rome and the English Reformation.
[Read More...]